Francesco Guidolin is happy to see Swansea City achieve safety in the division following a 3-1 win over Liverpool this weekend.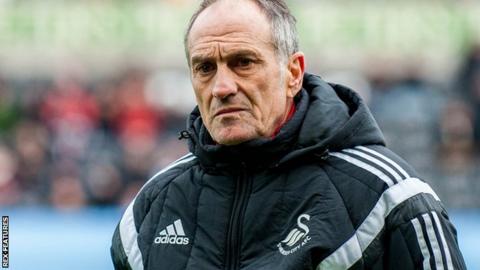 Even though the club were never really considered as being in a relegation battle going into the last few matches, Guidolin has been very keen on reaching the psychological safety barrier of 40 points. The win over Liverpool means that it is mathematically impossible for Swansea to be relegated. After having secured Premier League football for next campaign,Guidolin says that the club can afford to relax in the remaining two matches.
There is still uncertainty surrounding the future of Guidolin, who was appointed on an interim basis. There have been reports that Swansea are set to be taken over by new owners. Chairman Huw Jenkins has failed to concretely suggested that Guidolin will be provided a permanent position at the club. Irrespective of his future, the 60-year-old has managed to get the club to safety and he will see this achievement with pride. It was only a few years ago that the club won the League Cup under Michael Laudrup, but they have failed to create anything of significance in the last two years.
Avoiding relegation was crucial in the club's future considering the mega TV deal that is it coming from next season."I am happy because we were safe three weeks ago, but not mathematically. To have 40 points with five games to go, it is an important result. Now we have 43 points, which is important. It is not much but it is a good result. We have two more games and today I am happy and I think I've done my job very well. I say thank you to my players, my assistant and my staff. I say many times I want to stay and the chairman knows that," said Guidolin.